Living and Working in Portugal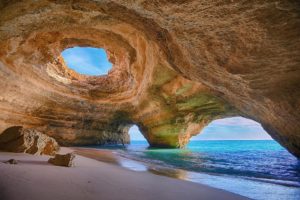 Portugal (Portuguese Republic) is located mostly on the Iberian Peninsula, in southwestern Europe. Portugal has an exceptional range of different landscapes. Some attractions are culture and heritage, superb cuisine and fine wine but also some of the most romantic beaches in the world. The climate is temperate-maritime with warm summers and mild winters.
Portugal got the title of the friendliest country towards foreign residents worldwide. The sunny country offers an equally warm welcome to its expats. They felt at home straight away. Portuguese are praised for taking care of each other. Its easy to make friends with local residents. Portugal was place on the top position by a survey of expatriates and immigrants from 188 countries living in 166 different nationalities in the category of "Quality of Life", "Safety & "Hospitality". Cost of living is not too high here, Food, accommodation, travel all are comparatively affordable.
The Following Factors Speak For An Immigration To Portugal
Very friendly people
Very good for Adventure
Very good Heritage
High Quality of Life
High respected Citizenship
Open for Business
Good Cultural Influence
Good Entrepreneurship
Ease of Settling In (AOT: Finding Friends)
Low Cost of Living
Traveling information
The government has placed a high degree of Caution as regards to travelers coming into Portugal. Therefore, it is compulsory that travelers update themselves with travel requirements from their home country to Portugal. The state government has asked travelers to exercise normal precautions if travelling to Portugal. Department of Foreign Affairs recommends that travelers must obtain a European Health Insurance (EHIC) covering comprehensive travel insurance including all overseas medical cost.
Travelers coming from the European Countries into Portugal Must have a European Digital Covid Certificate or equivalent proof of vaccination. Valid negative test result not more than 72 hours old is accepted and a Rapid Antigen test which was taken 24 hours before the departure. Antigen Tests taken by self or by self-kit is not acceptable.
If you are travelling from non-EU countries, please visit the following website to find out the rules implemented in Portugal: www.visitportugal.com
Azores and Madeira are the two islands regions of Portugal where they have their own laws and regulations, so it is very important that travelers take all necessarily guidelines for travelling into these regions.  For example, in Madeira no restrictions are placed on travelers entering into Madeira, either by airports or land ports. However the Country of origin and the Passenger themselves are responsible for any eventuality at their own costs.
How to immigrate to Portugal    
The immigration to Portugal is made easy if you are familiar with all immigration process, country's custom rules & regulations. There are different rules for EU and EFTA citizens.  Portugal being an EU member state, it grants visa-free entry to all EU/EFTA citizens. This also includes relatives who are not necessary from the EU states.  EU nationals can come into Portugal on three months visit and find a job or set up a business. Once they employed or they start up a business here they enjoy the same rights as a Portuguese worker. They can apply for a permanent visa after 5 years. 
For a Non-EU or EFTA national, three months visit visa is required. However, if a non-EU/EFTA has agreement with Portugal, they can be exempt from this visa. As of now citizens from 61 countries can travel into Portugal without the visit visa, who has an agreement with Portugal. For extended stay they will have to apply for long-tern national visa.
Click here to know all about Portugal Visas– Type of Visas & Process to obtain etc.
People
The population of Portuguese people is approximately 11 million. The Capital city Lisbon has the largest population with around 2 million and the second largest city Oporto (Porto) with around 1 million. Portugal is a Roman nation and 80% are Roman Catholics, however other religions are practiced here with freedom. The rural population is deeply superstitious, and their beliefs are based on the moon and evil eye.
People here are a mixture of Iberians, who were the first to settle In Portugal, Celts, Romans, Germanic tribes, Jews and the Moors. Therefore, they have mixed unique physical features, especially in the north where the tribes resemble Germans, who are taller, light-haired & eyed people. In general, the Portuguese people have a typical Mediterranean feature with brown hair and eyes and normal height less than 6 feet.
People here are smartly dressed, and they follow the western-style in the cities. The traditional garbs can be seen in the rural areas. People are very easy-going and friendly here, Kissing and handshaking is a normal gesture while greeting a person. Portuguese people are very hardworking and adaptable. The Portuguese people love their Country and those who travel abroad for work, do visit their country once a year and after retirement return to Portugal.
Job offers in Portugal   
The Job market is considered to be very expat-friendly, though it's not very easy to get a job in Portugal.  One reason being that the job market is strong Portuguese-speaking. There is a high demand of skilled workers in growing industries. The tech companies are in the increase here and they invite employees from all around the world.  Tourism opens the door to many expats who can speak several languages. Other areas where you can get a highly paid job is IT, Hospitals (Doctor, Nurse), Software Engineer, Teacher, Web Designer, Accountant, Architect etc. 
Local Portuguese people speak English and therefore as an expat you know and speak other languages like French, Spanish or German, then you have a greater job opportunity here. 
It is advisable to get a job online and secure it before coming to Portugal. Companies in Portugal has job openings on their website. The minimum salary in Portugal is around is 600 EUR (660 USD) set by the law. Social security tax is levied on income which is 11% of the income, however its payable on income from 654 EUR onwards. 
There are self-employed jobs opportunities here in Portugal such as opening a restaurant, hotels etc. You can also own a Company in Portugal.
Find out how to start a business in Portugal, Please visit: altar.io
Unemployment rate 
The unemployment rate in March'22 was 5.7% and some source claims that its 6.7%.  The economic crises in the year 2014 was the main reasons for its high unemployment rate, worsened by the Covid-19 situation which resulted in decreased GDP for Portugal. 
The government of Portugal has since than implemented plans to improve the situation. They proposed a plan to raise the minimum salary in 2014 which was again increased to 650 EUR om 2015.  Taxes on some items were also reduced.  The government aims at reducing bureaucracy for business to make it easier for local people to start a business.
To know more about Portugal's economy rate and it factors please visit: www.economy.com
Renting and buying of real estates for foreigners 
Renting: 
It is easier to rent a house or an apartment in Portugal, however expat find it much easier to hire a real estate agent who speaks English and knows the area well. Lisbon, Porto and Algarve are good places to rent a house. You have options of furnished, unfurnished apartments. Some houses have kitchen with appliances. 
In Lisbon, the capital city the rent starts around $650/month to $1,000/month for a average apartment. It is a digital hub and expats prefer to live here. It is expensive when compared to other cities of Portugal. The next option is Porto, city of Port wine, a little less expensive than Lisbon, but there are cheaper options. The current rental cost is around $10 per Sq. meter. 
The happiest cities of Portugal, Braga, is the 3rd largest city of Portugal. The city is known for its iconic sanctuary and charming squares. The city is famous of its cathedral, build in the 12th century. The Born Jesus do Monte is known for its 18th century staircase. Thousands of visitors visit Braga every year, still the houses are affordable here. 
Guide to rent a property in Portugal please visit: www.expatica.com
Buying: 
The government has no restrictions on Foreigners buying Land in Portugal. The buyer must have a account in Portuguese Bank and get a VAT identification number. It is called the número de identificação fiscal (NIF) or número de contribuinte in Portugal. Post pandemic the property cost has risen in Portugal. Buying procedures may take a much a longer time thane expected here. 
A big benefit to buying a property in Portugal is that one becomes eligible for Portugal Golden Visa and can get citizenship after 6 years of stay.  Few places where you can buy a good house are Cascais, the most expensive but for those who prefer a good quality of life with beaches, high-quality restaurants, clean parks and much more. Next is Algarve, the warmest place, with good public and private international schools. English is widely spoken here and is the favorite place for retirees mainly from west. Though real estate is comparatively expensive here there are affordable options as well. Alentejo, Porto and Lisbon are other cities where buying land would be worthwhile. The cheapest place to buy a house is Braga. 
Get the complete guide to buying a property in Portugal, visit: www.propertyguides.com
Climate
There are no 4 distinct seasons in Portugal, however all the four seasons are experienced here as the conditions of summer and winter do tend to linger on into autumn and spring. 
Summer – between June till mid-September
Winter    – between December and February
Autumn – between late-September and November
Spring    – between March and May 7, 2022
During winter the Serra da Estrela, the highest mountain range in northern Portugal is the best snow destination. It will snow between November and April. December and January months are chilling, with temperatures going down to 2-degree C (36 degrees F) at night.  The daytime temperatures rise as high as 20 degrees C (68 degrees F).  Porto, in the north of Portugal experiences lot of rain in winter.  
 To find the current temperature of a city, please visit: weather.com
Currency 
Euro is the official in Portugal, being one of the member state of European Union (EU). The Euro symbol is "€" and the code is "EUR". The sub unit is "Cent". 
The currency comes in the following Bank notes: €5, €10, €20, €50, €100, €200, €500 and Coins are available in 1 cent euro coin, 2 euro cent coin, 10 euro cent coin, 20 cent euro coin, 5c, 50c, €1 and €2
Languages
The Portuguese in the official language of Portugal. It is commonly spoken in Portugal and Brazil and in 8 more countries including Angola and Mozambique. It is also the official language of Macau. Only 5% of the Portuguese speaking people live in Portugal. Portuguese evolved from the medieval language, which is known as Galician-Portuguese as per Linguists. The first recorded Galician-Portuguese words and phrases was done in the 9th century Latin administrative documents. The common language of Portugal was made official and called the "Portuguese" by King Denis of Portugal in 1290, who also created the first Portuguese university in Lisbon.
Mirandese, Portuguese sign Language, French, Spanish and English are the other few languages spoken in Portugal.
Cost of living in Portugal  
Cost of living in Portugal is 36.39% on an average which is lower that US and the rent is 52.76% lower as compared to US. Accommodation and Groceries are also reasonably charges. An average monthly budget on food will be around $200/month largely depends on what you buy. Luxury items such as a good wine and olive oil is also inexpensive as its produced locally. A local wine will cost you about $4 a bottle. 
Lunch or basic good meal at restaurants will be generally €8 to €11 ($9 to $12.50) per person. Home utilities including electricity and water will around $80/month. An average person especially the retirees are comfortably living on an average €800 or $ 932.66/month. So, the quality of lifestyle you prefer, travelling by flight and car, eating in expensive hotels will increase your pocket budget. 
To know the cost of each items on Portugal please visit: www.numbeo.com
Taxes   
The number of days you live and work in Portugal decides if you are eligible to pay tax or not. More than 6 months or more stay in Portugal means you ae a resident and you are liable to pay tax on your income. The rate of tax or residents is progressive, meaning the more you earn the more tax you pay. They were taxed on their worldwide income at progressive rate varying from 14.5% to 48% in 2021. Income tax applies to earnings in major 6 categories namely:
Self-employment income
Employment income
Investment income
Rental income from properties given on rent in Portugal
Capital gains from selling properties, shares or assets
Pensions in Portugal, includes private pension plans
A flat rate of 25% is levied for non-residents. Under the government scheme named "non-habitual residents (NHR)" new residents are given tax benefits for their first 10 years of service in the country. 
To find out about the "The tax system in Portugal" in Portugal visit: www.expatica.com
Health Insurance  
Portugal health care services is very high and therefore it was ranked 13th on the 2018 Euro Health Consumer Index. The legal residents of Portugal and expats who are legal residents of Portugal benefit from the National Health Service in Portugal.  The National Health Service (NHS or Servico Nacional de Saude, SNS) is free and available to all residents. However recently some charges have been included for some services. This service is funded through the general taxation ass well as from the Portuguese social security deposits. Unemployed and retired residents do not have to make social security contributions. The residents from EU countries and those who retire in Portugal do not make social security contributions, are required to fill form S1 to be entitled to healthcare in Portugal.
To avail the SNS services, the applicant can register online. The website address is: servicos.min-saude.pt
The second special social health scheme which is occupation based for public sector and some professions like Police, Military and Banking. The third is a voluntary private health insurance in Portugal.
Important addresses
Humberto Delgado Airport
Alameda das Comunidades Portuguesas
1700-111
Lisbon
Ph: +351 218 413 500
lisbon.airport@ana.pt
Hospital Amadora Sintra
IC19 276, 2720-276 Amadora
Portugal
Ph: +351 21 434 8200
(Open 24 hours)
Portuguese Red Cross- Rio Maior
(Ambulance Service)
R. Cidade Rai Maior 115,
2040-266 Rio Maior
Portugal
Ph: +351 915 645 166
Summary
Portugal, situatеd on thе Ibеrian Pеninsula in Southеrn Europe, is a captivating dеstination with a rich history and divеrsе landscapеs. Bordеrеd by Spain to thе еast and thе Atlantic Ocеan to thе wеst, Portugal is known for its charming coastal towns, historic citiеs, and picturеsquе vinеyards. Thе Algarvе rеgion bеckons tourists with its stunning bеachеs, whilе Lisbon, thе capital, offеrs a blеnd of anciеnt and modеrn attractions. Natural wondеrs likе thе Douro Vallеy and thе Azorеs archipеlago showcasе thе country's scеnic bеauty. Portugal boasts a rеlativеly affordablе cost of living, making it appеaling to both tourists and immigrants. Thе Mеditеrranеan climatе, with mild, rainy wintеrs and warm, dry summеrs, adds to its allurе. Thе country's еconomic conditions have improved in rеcеnt yеars, and initiativеs to attract forеign invеstmеnt havе bееn succеssful. Portugal is increasingly becoming a popular choicе for immigrants and еxpats sееking a high quality of lifе, job opportunitiеs, and a wеlcoming atmosphere. With a growing tеch industry and a focus on rеnеwablе еnеrgy, Portugal is еstablishing itsеlf as a promising dеstination for thosе looking to work and livе in a vibrant and culturally rich еnvironmеnt.
Moving to Portugal
Compare the costs and save up to 40% on your move. Within just 1 minute you can get the 5 best offers from over 1,000 professional international moving companies here for free. Over 200,000 emigrants have successfully used this service to date.
Translation Of The Documents
With Lingoking you can have all documents (such as driver's license, birth certificate, marriage certificate, B2B and other categories) translated into the local language (or vice versa) quickly and inexpensively. The following link will take you to the selection page: Calculate the price for your translation