Living and Working in Sweden
With a population of just a bit over 10 million, Sweden is one of the most sparsely populated countries in Europe. Sweden consists of 80 percent huge forests, mountains, lakes, rivers, bogs and wilderness. Large cities, including Stockholm, are embedded in the unspoilt nature. Fresh air, clean water and the intact, unspoilt nature is accessible to everyone and is protected.
Friendly, hardworking, tidy, honest, good faith, shy and reserved, skimpy and a bit clumsy – this is how the Swede is described by foreign observers and also by the Swedes themselves. In Sweden, the proportion of foreigners in the total population at the beginning of 2018 was around 8.8 percent.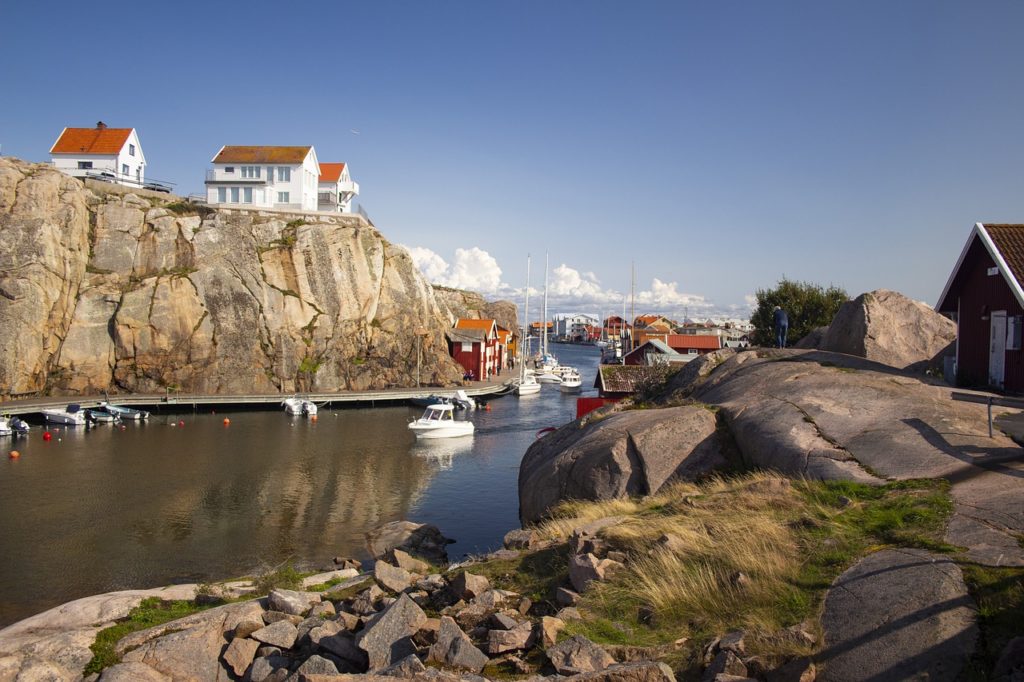 The Following Factors Speak For An Immigration To Sweden
Best in Green Living
One of the best countries for Raising Kids
One of the best countries for Women
Highly respected Citizenship
Very high Quality of Life
Very good for Education
Open for Business
Good Entrepreneurship
Good Cultural Influence
Traveling information
The restrictions due to covid-19 on travel in to Sweden has been lifted as of 1st April'22. This means that Negative test or Vaccine certificates are not required to enter Sweden. However local laws and regulations are still in place and restriction can be imposed suddenly subject to situation. It is advisable that travelers with symptoms must not travel.
The normal entry documents to travel will apply as before. Citizens from Ukraine who hold a biometric passport and has applied for asylum in Sweden can enter Sweden without a Visa for 90 days. If a Ukraine citizen had moved into Sweden and stayed from the period 30th October'21 to 23rd February'22 can receive temporary protection under the EU's temporary protection directive. Those who seek asylum in Sweden need to contact the Swedish Migration Agency or the Swedish Police to get the legal right to live in Sweden.
How to immigrate to Sweden
EU/EEA citizens automatically gets the right to study, work, live or even start a business in Sweden, without any migration requirements. On arrival into Sweden you just need to register in the national population register and a personal ID number.
Citizens of non-EU county needs a visa to visit Sweden. A visit visa permits a stay of 90 days. For stay more than 90 days, you need a visitor's residence permit.  A firm job offer is required to move into Sweden, which can help you get a Work permit. Family members of citizens who hold work permit can also apply.
Moving into Sweden as a Self-Employed citizen is also tough as you need to have sufficient funds and also prove that the product or services that you want to start has demand in Sweden and can survive within your existing network.
People 
The native population of Sweden is comprised of Swedes with Finnish ad Sami minorities. The Swedish people are very humble and egalitarian in nature. They are generally good Listeners. They are moderate in habits and are always politely express gratitude by using words like "Thank you". They love to enjoy life but only after hard work. It is very encouraging to see that competition is encouraged and children are taught to be humble and not think special about themselves.   
Family plays an important role in a Sweden. A parent is usually entitled to be absent from work until the child reaches 18 months. They can also reduce their workload by 25% until the child is 8 years old or ready for school. To take care of the child's responsibilities a parental allowance is also paid. Parents are also entitled for leave to take care of a sick child. 
Its good to know the Swedish Culture and Basic Etiquette they follow. For more on Swedish Culture, visit : culturalatlas.sbs.com.au
Job offers in Sweden   
To get a job in Sweden is not easy as job preference are given first to Sweden Citizens and then to EU/EEA citizens. Most of the jobs require fluency in Swedish Language, even if the position required says, "English only", still the preference will be given to those who has some knowledge of Swedish language.
Jobs are very competitive here and salaries are high. The average monthly salary is around 2600 USD (26,000 SEK). However, when you look at the high cost of living in Sweden and the rent, then the salary is comparatively medium. A university degree is a must to get a job in Sweden. It is highly recommended that you learn the Swedish language in order to get a good job here. The online jobs portals are the best to find jobs. Indeed.com, metro job & also facebook groups comes very handy in finding good jobs. The resume or the CV must be attached on to a covering letter which must be informal as the Swede are very informal. You can use "Hello" instead of "Dear",  followed by the recipient's name. Be very frank, polite and honest to tell the truth about yourself and the knowledge of the job you are applying for.
More on finding jobs in Sweden, please visit : sweden.se
Unemployment rate
The unemployment rate of Sweden in December'21 was 8.2% and in 2020 it was 8.45% which is 1.62% increase from the year 2019. The average unemployment rate of Sweden is 6.79%.  Even though Sweden's economy is strong, the unemployment rate especially among youths was very high, nearly 20% since 2000. This was mainly due to the pandemic and partly due to the lockdown, where the companies cut-off staff, and focused on employing on contract basis. 
Sweden has the highest proportion of refugees in its overall population as compared to other European countries. These migrants face relatively high unemployment because of low-education and low-skilled especially among the youths. A policy survey on Swedish employment rate suggests that, policies for early retirement, old-age pensions, taxes and benefits are all factors leading to the high unemployment rate in Sweden. 
Get the latest unemployment rate and comparisons over the years on : www.statista.com
Economy of Sweden  
Sweden has a very diverse and highly competitive economy. In spite of the pandemic, Sweden was ranked second in the IMD World Competitiveness Ranking 2021 which ranked 64 economics of the world. Sweden was able to take this position due to its liberal approach to trade and business methods. 
Sweden has been an export orientated nation over the years and the main commodities includes: Refined petroleum, Sawn Wood, Iron Ore, Flat-Rolled steel, Refined Copper. Clothing's, rubber products, cars, vehicle parts etc. It has a positive trade balance which means the value of exports is greater than the value of imports. It is estimated that its annual export is around $162 billion & the total imports is around $160 billion. Netherlands, Denmark, Norway, Germany and the US are major exports destinations of Sweden. 
Sweden's GDP was ranked 22nd in the world an it has enjoyed an annual growth rate over 7.9% in the last 10 years.
To read more about Sweden's economy, please visit: www.heritage.org Renting and buying of real estates for foreigners:
Renting:
It is difficult to rent a house or an apartment in Sweden. For those who would like to stay in Sweden for long, buying would be a better option. There are first-hand rentals and second-hand rentals, meaning the landlord directly rents the house to you. The second-hand rental means a tenant who already rents a house sublets the house to you. 
Its very hard to find the first-hand rentals and there is a waiting list for this, therefore the second-hand rentals are only available which is available for just 1 year. Second-hand rents are higher than the First-hand rented house. Students and foreigners have experienced housing shortages over the years. Rents are also high and is based on the rent caps set by Swedish government. Stockholm, Gothenburg, Malmo, Uppsala/Solna are the few cities where expats lives. In these cities the minimum rent is 10,700 SEK/month (1,200 UDS). It is good to be familiar with the rental laws in Sweden.
Some good information is available for you on : www.residensportalen.com
Buying: 
Foreigners can buy property in Sweden legally. For expats who are in Sweden for long term buying a house will be cheaper. There are different types of property according to your preference to choose from, like "Villa", "Apartment", "Terraced house" etc.  The process of buying the house is also easy and fast once the deal is fixed between the buyer and the seller. On an average the procedure takes 14 days to complete and it a is advisable to and agent /broker. 
Properties are cheapest in Stockholm area and expensive in Solna, Danderyd and Lidingo. The average cost of property is 5,200 USD (53,500 SEK per m2). The stamp duty, registration fees is paid by the buyer, however the agent fee is paid by the seller which is around 3-5%.
To find out the process of buying property in Sweden, please visit: realestatescandinavia.com
Climate
Sweden has the following 4 weather:
Spring (March – May)
Summer (June to August)
Fall (September to October/November)
Winter (November/December to March/February) 
Sweden is divided in three major regions as the land is varied and these regions experience quite different seasons. 
Götaland (South region)
Svealand (Middle region)
Norrland (North region)
In the Götaland region the winters are short and mild. The temperature ranges from 15 to 25 degrees Celsius in summer. Svealand is cooler than the south region Average temperature is just below zero in January. Snowfall is very common here, especially in the northwest region. You will find Ski resorts in this area. Norrland has long, cold and dry climate. Snowfall is more here. Summers are not too hot with temperatures varying from 15 degrees to 30 degrees.
To see the temperature in a particular city in Sweden. Please visit: weather-and-climate.com
Languages
Swedish is the language of Sweden. It is called "Svenska" and is widely spoken by more 10 million people. Swedish is the most accessible of all the Scandinavian languages, with similarity in grammar and vocabulary. Therefore, learning Swedish opens the door to understand and learn other Scandinavian languages like Danish and Norwegian. 
Swedish and English have thousands of cognates having similar sounds and also meanings. A few words are Salt, Tunnel, Access and digital. Swedish is also spoken in other countries like Canada, Finland, Norway. It is estimated that around 9.2 million speak Swedish in worldwide.  
Read more about Swedish Language on www.mustgo.com
Traffic 
Roads in Sweden are excellent, well-maintained and safe. The warning signs and speed limits are appropriately posted which keeps reminding the drivers to drive safely, especially during rains when the curves on the highway tends to be slippery. Snow tires is a must between December to March, which provides more grp and driving is safer in snow. The top speed limit is 110km/h on the motorways. It is mandatory that the headlight must be on always. The Blood alcohol content limit is 0.02 in Sweden, which the lowest in the western world, so its best not to drink if you have to drive. There are frequent checks in the traffic and Sweden traffic Police is very strict.  
Be familiar with the road signs in Sweden, refer to en.wikipedia.org
Currency
The official currency is the Krona (SEK or Kr) in Sweden. Sweden became a EU nation in 1995, however it has still not adopted EURO. 
The currency is printed in Banknotes of 20,50,100,200,500 and 1000 kronor.
The coins are available in 1,2,5 and 10 kronor. 
Except for some tourist shops in Stockholm and few hotels, which are owned by International chains, Euros are not used accepted in Sweden. 
Payment Transaction
Sweden is a cashless society and most of the Banks have stopped handling cash. Public places like shops, museums and even restaurants now accept plastic or mobile payments.  Contactless cards are also in demand. Many cards do work in Sweden, however American Express may have some restrictions. Cards with magnetic strip is not accepted here only card with chip and a PIN (Personal Identification Number) is accepted.
 Mobile payment and bank transactions are made easier through a Mobile app called the "Swish". A personal must to have a account in a Swedish Bank and a Social Security Number (SSN). Bank provides a "BankID", which is installed in the same phone with the "Swish" app. 
While cash is used only in some shops, you can redeem your left over or invalid cash for a fee of SEK200 in the Swedish's central bank called "Riksbank". 
Cost of living in Sweden 
Sweden is an expensive place to travel and live in for some. However, for an American and Britisher, a lot of things are cheaper as compared to their country. Some hotels are reasonably prices. Some museums and galleries have free entry, so visiting those for leisure will save costs. Domestic train travel is also less than other countries. University education for EU nationals in a Swedish university is free, however for other international students its high.  A good long-term accommodation and the weak value of the Krona at the time of your visit will surely reduce the cost of living.
A small bottle of drinking water will cost 22-35 SEK. Its good to know that Sweden is vey clean and pollution free, with lots of rain & snow, lakes with clean water. The tap water in the house or restaurants are safe to drink. 
Cost of living is 5.40% lower on an average than in United States. Rent is 47.48% lower than rent in US. 
To get the current price of all commodities and facilities in Sweden, please visit : www.numbeo.com
Taxes   
Tax paid by the salary of an employee is contributed to three levels of government namely: The Municipality, the Country Council and the Central Government. An employer directly deducts the income tax from the salary of an employee and pay to the Swedish Tax Agency. The employer contributes to the Social Security system. 
The different type of taxes in Sweden are:
Income Tax
Value Added Tax
Payroll Tax
Corporate & Capital Gains Tax 
A quick guide to taxes in Sweden, kindly refer: sweden.se
Health Insurance   
Swedish Emergency departments (hospitals) are among the best in the world, with latest equipment to deal with all kinds of emergencies. In case of accident or emergency call 112 for an ambulance, to get the emergency services.  Public healthcare clinic & drop-in centres can be located in every city where you can see the Doctor on the same day. 
The primary healthcare in Sweden is taken car by tax-funded clinics and hospitals which provide free (or at reduce cost) treatment to Swedes and also to the temporary visitors in Sweden. Citizens from EU/EEA or Switzerland can apply for blue European health insurance card (EHIC), which can be applied online and is available for free. This card is valid for 5 years and cardholders are entitled for healthcare at a reduce cost as a Swedes. If you required specialized treatment and need to visit very often the cost will be capped for around 1000 SEK.
Private health care is expensive, and a comprehensive travel insurance is worth it. Dentist are no free but expensive in Sweden. For e.g and emergency dental appointment with x-ray, tooth extraction and filling will cost anywhere between 1000 to 2000 SEK.
Important addresses
Syrian Embassy
Vendevägen 90, 182 32 Danderyd,
Sweden
Phone: +46 8 622 18 70
Embassy of the State of Eritrea
Stjärnvägen 2, 181 50 Lidingö,
Sweden
Phone: +46 8 441 72 70
Embassy of Germany
Skarpögatan 9, 115 27 Stockholm,
Sweden
Phone: +46 8 670 15 00
Embassy of Pakistan
Karlavägen 65, 114 49 Stockholm,
Sweden
Phone: +46 8 20 33 00
Embassy of Georgia
Holländargatan 23, 111 60 Stockholm,
Phone: +46 8 678 02 60
Stockholm Arlanda Airport
190 45 Stockholm-Arlanda,
Sweden
Phone: +46 10 109 10 00
Gothenburg-Landvetter Airport
438 80 Landvetter, Sweden
Phone: +46 10 109 31 00
Danderyds Hospital Stockholm Care
AB Box 12134 Stockholm 102 24 Sweden
Tel: + 46 8 656 4641
Citykliniken Malmo Malmborgsgatan
4 Malmo 211 38 Sweden
Tel: + 46 40 350 200
Emergency Service Number – 112
    (English & Swedish Language)
Healthcare advise Number – 1177
   (Find a doctor & non-urgent healthcare issue)
   (calling from abroad or foreign mobile in Sweden) – + 46 771 1177 00
Non-urgent Police Number – 11414
      Swedish Police Number – +46 771 141 400
      (call from outside Sweden)
Sveriges Riksbank (Sweden Riksbank)
Brunkebergstorg 11
Phone : +46 8 787 00 00
Email : registratorn@riksbank.se
Postal address = Sveriges Riksbank
SE-103 37 Stockholm
Summary 
Sweden the 5th largest county in Europe but having the lowest population densities. Free from pollution, Sweden is 57% forest and 100,000 lakes and hills. "Allemansrätten' – The right to roam is a right granted to everyone in Sweden by the Swedish constitution. Public has right to roam freely in public and private lands, lakes to explore the beauty of Sweden. Under this right everyone is welcome to enjoy the Swedish Nature, but they don't have to disturb or destroy. It comes with the responsibility to show consideration for people, wildlife and nature.
 It is notable about Sweden that it has not involved in any warfare for nearly 200 years. It is the second-lowest populated country among the EU nations.  Sweden is the pop music capital of the world; the famous ABBA groups is Sweden's pride. The music streaming platform "Spotify" originated in Sweden, and the list goes on. Sweden has many things to its credit, visit this awe-inspiring country and explore.
Moving to Sweden
Compare the costs and save up to 40% on your move. Within just 1 minute you can get the 5 best offers from over 1,000 professional international moving companies here for free. Over 200,000 emigrants have successfully used this service to date.
Translation Of The Documents
With Lingoking you can have all documents (such as driver's license, birth certificate, marriage certificate, B2B and other categories) translated into the local language (or vice versa) quickly and inexpensively. The following link will take you to the selection page: Calculate the price for your translation