Immigration to Switzerland
Living and Working in Switzerland
Switzerland (officially Swiss Confederation) is a small country in Central Europe made up of impressive mountains, lakes and valleys. It's one of the world's wealthiest countries, and has been well-known for its neutrality.
Most immigrants said they came to Switzerland for professional reasons, others say it was to change their lifestyle or have new experiences. Twenty-nine percent cited family reasons and eight percent education. But the stats also varied widely depending on the country of origin, with 65 percent of Brits saying they came here for professional reasons.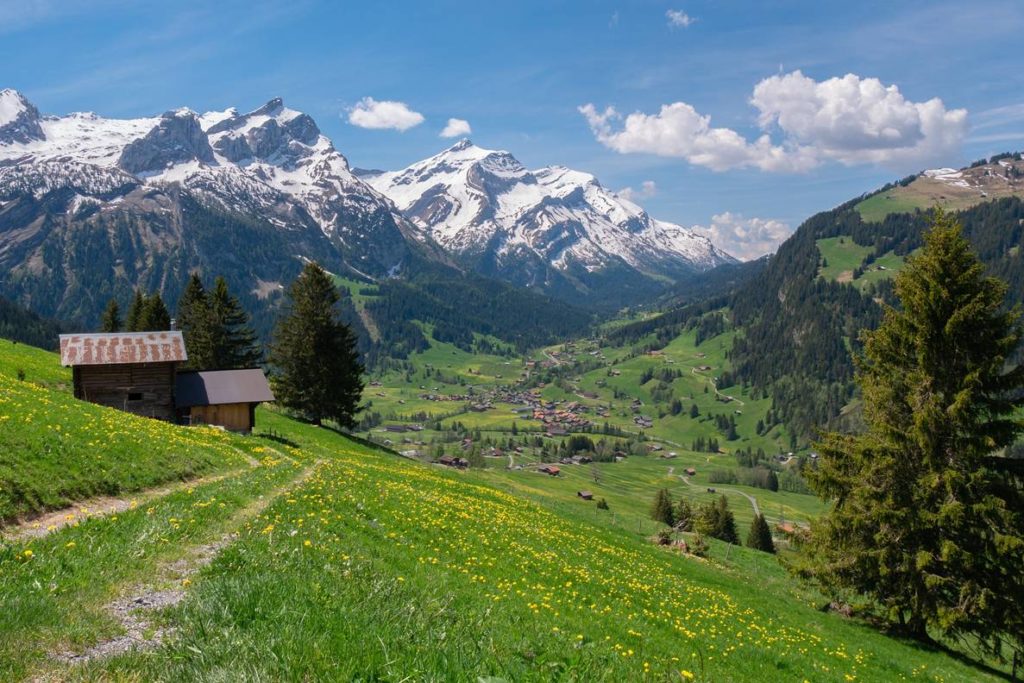 The Following Factors Speak For An Immigration To Switzerland
Very good Entrepreneurship
Good for Adventure
Highly respected Citizenship
Good Cultural Influence
Open for Business
Good Economic Strength
Very high Quality of Life
Very good Education
Best Green Living
Good to Raise Kids
Good for Women
Traveling Information
There are many different regulations for applying to enter the country. As you can see below, there are distinction between citizens of the  EU and  EFTA countries and those of other countries. The state Secretariat for Migration (SEM) is the responsible authority in Switzerland.
SEM: Since Switzerland has adhere to the Schengen and Dublin agreements (came into force 12. December 2008), Swiss representations abroad are able to issue certain categories of visa, depending on the length of stay and purpose of the journey in Switzerland. Please select one of the following options.
Schengen visa for a stay of up to 90 days: If a person wants to visit Switzerland for a short stay such as 90 days within a frame of 6 months should get schengen visa. Like if you want to go for tourism, or to visit a friend or relatives, Language Studies (Short Term), for conference or in sporting or cultural events, etc.
National Visa for a stay for more than 90 days: For persons who wants to go to Switzerland for more than 90 days stay within a frame of 6 months will need National Visa. It is subject to the authorization of the cantonal migration authority competent for the intended place of residence. For example: long-term student, family reunification, marriage in Switzerland, etc.
Airport Transit Visa: Airport transit visa is a document showing that a traveler has a permission to pass through a country, but he cannot stay there.
For citizens of certain countries who need a transit visa even if they are staying in the international transit area of the airport and do not enter the Schengen territory.
If you are planning to visit the country of Switzerland, you may be required to apply for a visa beforehand. The Swiss Shengen Visas allow the holder to stay in Switzerland (or another Shengen-area country) for a maximum of 90 days within six months. They are also called C-Visas.
Switzerland is one of the 26 Schengen-Area countries which have visa-free and border control-free travel between them. This means that anyone who is from a Schenegen-area country can freely travel to Switzerland without a visa for a maximum of 90 days within a period of six-month. It shows the dates when you need to leave, as well as the duration that the visa is valid for.
Switzerland Visa Application
To obtain a Swiss visa you will need to go through these simple application steps:
Search if you need to apply for a visa for Switzerland.
Determine what type of Switzerland Visa you need.
Search where you can apply.
Search when you should apply.
Book an appointment for Switzerland Schenegen Visa.
Fill up the form for Switzerland Schenegen Visa application.
Gather the documents required.
Please be there to the appointment to apply.
Pay the fees for Switzerland Visa.
Enter the visa interview.
Wait for the processing.
How To Immigrate to Switzerland
Every foreigner staying in Switzerland for longer than 90 days/three months needs a residence permit, even EU/EFTA citizens. You have to apply to the local cantonal migration offices where you intend to live, before settling in Switzerland. For more information: visaguide.world
Residence Permits: A person who is working and staying in Switzerland for longer than 90 days will require a residence permit. It is issued by the Cantonal Migration Offices. There is a distinction between Short-term residence permits (not more than one year), annual residence permits (limited) and permanent residence permits (unlimited). It also depends on the applicants nationality. A person requires for a stay over 90 days in Switzerland.
Family Reunification: When you are living without your family in to and want to bring your family members to Switzerland you need to apply for national visa. It is also helpful to find the information on the service available to help your children enter the Swiss School System. For more information please visit: www.eda.admin.ch
Foreign Nationals without gainful employment: Switzerland's migration policy makes a clear distinction. On the one hand, the agreement on the Free Movement of Persons makes it much easier for EU and EFTA citizens to enter and stay in Switzerland. However, conditions are more restrictive for third-country nationals.
People
The largest immigrant groups in Switzerland are those from Italy, Germany, the Former Yugoslavia, Albania, Portugal and Turkey (Kurds and Turks). Between them, these six groups account for about 1.5 million people, 60% of the Swiss population with immigrant background, or close to 20% of total Swiss population.
Switzerland is a federal republic consisting of 26 cantons or regions. This means that more than 2.0 million foreigners from the EU and EFTA countries lived in Switzerland at the end of 2018. The population of Switzerland is 8.4 million.
Switzerland and Australia, with about a quarter of their population born outside the country, are the two countries with the highest proportion of immigrants in the western world, although who counts as an immigrant varies from country to country, and even between agencies within countries.
Switzerland also has the highest potential net migration index of any European country by a large margin, more than 150% (followed by Sweden +78%) according to a gallup study; this mean that out of an estimated 700 million potential migrants worldwide, about 12 million (150% of Swiss resident population) would name Switzerland as their most desired country of residence.
Work Permit, Job Offers (Industry And Business Sectors), Unemployment Rate, Economy
If you want to be allowed to work in Switzerland, you need a Switzerland work visa. This visa is also known as national or D-visa. Which is one of the types of the Switzerland long stay visas. It will allow you (the holder) to work there for the duration that the visa is issued. The application process depends on your nationality with other things. As like other types of visas, there are different rules apply for EU/EFTA citizens.
As a non – EU/EFTA citizen, for a Switzerland work visa following conditions are applied:
You are a skilled and qualified worker (manager, specialist) and you have a university degree, several years of work experience, and specific expertise
You already have a job waiting for you
The annual quotas for Swiss work visas allow it
These are the requirements, additionally if your employer is applying for your residence permit, then you can make application for your work visa in Switzerland.
Renting And Buying Of Real Estates For Foreigners
So unless you are Swiss, or hold a Swiss Residence Permit, you cannot buy a property in Geneva, Basel, Zurich, Zug or any of the other cities in Switzerland. Foreigners are allowed to buy chalets and apartments in most Swiss ski resorts as these are in tourist areas.
Foreigners are not permitted to buy unless they are genuinely resident in Switzerland. Properties are classed as either primary residences (first home) or second homes (holiday home) status. Primary residences are only available to those living in Zermatt and paying their taxes there.
Why home ownership is very low in Switzerland? Because many Swiss feel no need to buy their own home due to good rent conditions. The whole country is under rent-control for residential dwellings, meaning that the annual rent cannot exceed a certain percentage of total investment. A tenant can go to court to challenge excessive rent increases.
Swiss Permanent Residency and Citizenship: After you have lived in Switzerland for continuous 10 years, you will be eligible to apply for a Swiss Permanent Residence Permit (C Permit). After 12 years of permanent residence, you can apply to become naturalized as a Swiss Citizen.
EU/EFTA citizens: As an EU/EFTA citizen living in Switzerland, you enjoy the same rights as Swiss citizens when it comes to buying real estate, meaning you do not need a permit. For more information visit: www.ch.ch
Climate
Climate of Switzerland is continental on plateau. Cold spells can bring late snowfalls in spring season. The country is cold in winters in mountainous areas and has hot summers in plains. In winters the average temperature is about 1 degree below zero and in summer, temperature is upto 25 degree Celsius.
The Swiss climate is not as cold as people think normally, though the highest peaks of the Alps can get snow year-round. In the higher Alpine regions temperatures tend to be low, while the lower land of the northern area has higher temperatures and warm summers.
Languages
Main languages spoken in Switzerland are – German, Romansh, French & Italian. Then population of Switzerland was 62.6% native speakers of German (58.5% speak Swiss German and/or 11.1% Standard German at home); 22.9% French (mostly Swiss French, but including some Arpitan dialects); 8.2% Italian (mostly Swiss Italian, but including Lombard dialects); and 0.5 Romansh. In some situations, Latin is used, particularly as a single language to denote the county.
Traffic Regulations In Switzerland
You need to drive on the right lane
You need to have a motorway vignette on your car
The headlights must be switched on during the day time just as night
Maximum speeds: 120 kmph, highways 100 kmph, other roads outside built-up areas 80 kmph, towns 50 kmph
Tourists can drive in switzerland. Whether you are visiting or living in Switzerland, you can drive in Switzerland using your foreign driving licence for up to 12 months. If drivers are younger than the minimum age limits, for example 18 for driving a car, they cannot drive in Switzerland, even if they are allowed to drive in their home country.
Currency
Currency used in Switzerland is called Swiss Franc. The smaller denomination, a hundredth of a franc is Rappen (Rp) in German, centime (c.) in French, centesimo (ct.) in Italian, and rap (rp.) in Romansh. The currency used by banks and financial institutions is CHF. The full form of CH is Confoedaration Helvetica. The use of SFr. for Swiss Franc and fr.sv. is not in use or outdated now a days. The Swiss Franc (ISO Code = CHF). Value of 1 Dollar (USD) to 0.95 Swiss Francs (CHF) (Varies). The Swiss Franc is the only official currency in Switzerland. The franc is the only currency accepted everywhere in this country.
Payment Transactions
Payments are mainly handled by the Central Bank (Swiss National Bank – SNB). Payments can be done by manually & electronically. Through RTGS also payments can be done.
Cost Of Living in Switzerland 
Living in Switzerland is quite expensive comparing to the rest of the world. Cities like Zurich and Geneva are consistently most expensive. The country is expensive because it is a conservative economic system. It also depends on one's living situation entirely. For more information visit: https://www.numbeo.com
Apartment Rent
Immigrating to Switzerland may come as a shock to your wallet. It takes a high salary with good budgeting to make the life livable in Switzerland, especially if you want to live near a city centre.
Rent per month
Apartment (1 Bedroom) in City Centre: 1,517.73 Fr
Apartment (1 Bedroom) Outside of Centre: 1,168.93 Fr
Apartment (3 Bedroom) in City Centre: 2,839.10 Fr
Apartment (3 Bedroom) Outside of Centre: 2,199.82 Fr
Taxes
Taxes are levied by the Swiss Confederation, the cantons and the municipalities in Switzerland. All people resident in Switzerland are liable for the taxation of their worldwide income. Taxes in Switzerland are lower because you get less from the government.
Health Insurance
In Switzerland there's no free or affordable healthcare. Everyone has to pay minimum cost of 250€ per month for insurance and they give u very basic coverage for healthcare with a high deductible.
Important Addresses
Residents registration office: The Residents registration office offers service like change of address, Residence permit (Temporary or Permanent) and issuing passports, All other Attestations, ID Cards, Testimonials and Certificates.
City of Zurich
Bevölkerungsamt
Kreisbüro 1+8
Stadthausquai 17
Stadthaus
8001 Zürich
Telefon +41 44 412 15 15
For more information: www.stadt-zuerich.ch
Summary
Switzerland is a small country in Central Europe made up of impressive mountains, lakes and valleys. It's one of the world's wealthiest countries, and has been well-known for its neutrality.
Moving to Switzerland
Compare the costs and save up to 40% on your move. Within just 1 minute you can get the 5 best offers from over 1,000 professional international moving companies here for free. Over 200,000 emigrants have successfully used this service to date.
Translation Of The Documents
With Lingoking you can have all documents (such as driver's license, birth certificate, marriage certificate, B2B and other categories) translated into the local language (or vice versa) quickly and inexpensively. The following link will take you to the selection page: Calculate the price for your translation